Special features of the AB100:
---
Generous three-compartment system
Environmentally sound polypropylene plastic tank, stable and shockproof
Variable connection of inlet socket (diameter 40 mm)
4 mobile castors
Optional cover
Look at this excellent Settling Tank in action: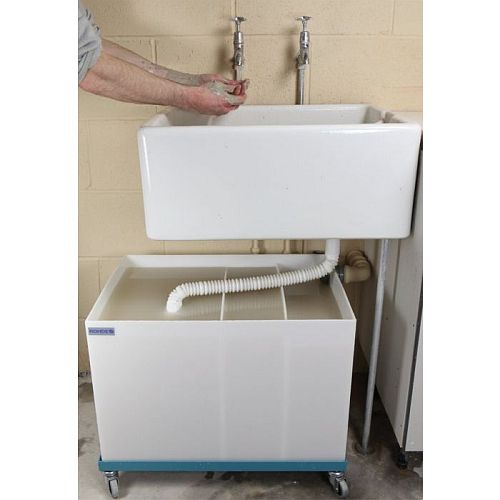 If you work with clay, glazes and plaster just take a few minutes to consider what happens to the waste materials that is washed off your hands and equipment. Yes, it disappears down the waste, but then what happens. As any clay or glaze and plaster when mixed with water the material settles out, sometimes faster than other times. The same happens with your materials when flowing down the waste pipe. As the flow of waste water slows the heavy materials will settle. The heavy materials are the particles of clay, the glaze materials and plaster. Eventually over time they will accumulate and block the waste. Clearing that block can be very time consuming and tedious. A trap is an invaluable asset. The principle of any trap is to slow the flow of waste, encouraging the heavy materials to drop out of suspension, but most importantly to capture the waste in a controlled way for easy disposal.
Consideration must be given to the amount of waste entering the waste and then choose a trap adequate for the purpose. Also, it must be borne in mind that any trap is only as good as the ongoing maintenance. The trap needs checking and emptying on a regular basis. There are no fixed time gaps, as it depends on the sink usage.

The Rohde Sedimentation Tank AB100 is the ideal support for environmental awareness in the ceramic workshop. Glazes, clays and engobes are effectively collected and removed from the wastewater before they reach the sewage system.
This appliance can be connected to practically any drain allowing for flexible use. It is delivered with a siphon and inlet socket, a cover is an optional extra. The stable and shockproof basin made of environmentally sound polypropylene plastic is highly flexible due to a supporting steel construction mounted on 4 mobile castors.
The tank has a generous three-compartment system that reduces the risk of blockage of pipes.
Dimensions:
---
Useable dimensions:

Width: 425mm (16.73in.)
Depth: 610mm (24.00in.)
Height: 415mm (16.33in.)

External dimensions:

Width: 450mm (17.22in.)
Depth: 630mm (24.8in.)
Height: 520mm (20.47in.)

Capacity: 100litres
Weight: 13kg
We endeavour to despatch pallet and courier/post orders received by 11am the same day, stocks allowing. At extremely busy times when receiving a high volume of orders, this may not be possible.
As we offer a great variety of products, ranging in size and weight we despatch our orders by the most suitable means for each order. Our web shop offers express and budget delivery options.

Saturday deliveries can be arranged but incur a surcharge. For this service please call 01243 265845.
Notify me when this item is restocked